Michael van Gerwen took home the top prize of £12,000 as he secured a first Players Championship win since April last year; the Dutchman beat reigning junior world champion Josh Rock 8-4 in the final
Last update: 03/19/23 9:40 p.m.
Michael van Gerwen clinched his first ranking title of 2023 by beating Josh Rock 8-4 in Sunday's Players Championship Final 7 in Hildesheim.
World number 3 Van Gerwen began the ProTour double-header in Germany by claiming the £12,000 top prize for a first Players Championship win since April last year.
Apart from the UK Open a fortnight ago, where Van Gerwen finished second, he had not made it past the quarter-finals in a ranking event this year.
The 33-year-old – winner of three Cazoo Premier League nights so far in 2023 – beat world junior champion Rock in the final to claim his first ranking triumph of the year.
"I had to work very hard," admitted Van Gerwen. "I have six gears but I won it in fourth gear today.
"I didn't play well most of the day, but the games where I had to play well – to beat Dirk [van Duijvenbode 6-4] in the quarterfinals I played very well there, and against Josh in the finals – I did.
"It gives you confidence and gives you pleasure, but I wasn't very good today. Of course I want to play better, but I did it whenever I needed to."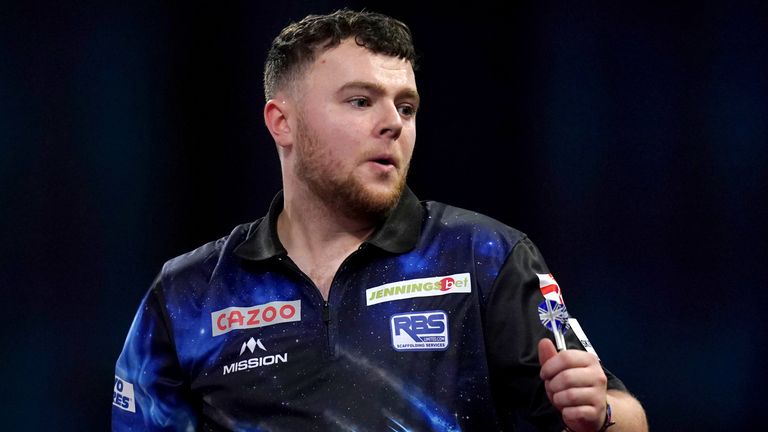 Van Gerwen beat Jacques Labre, Keegan Brown, Martin Lukeman and Boris Krcmar for the loss of just seven sets to book their place in the quarterfinals.
There he produced his highest average of the day at 104.95 in a stunning 6-4 victory over Dutch rival Van Duijvenbode, before beating fellow former youth world champion Bradley Brooks by a margin two sets in the semi-finals.
In the final, young defending champion Rock won the opener before Van Gerwen won five of the next six to go 5-2.
Rock closed the gap to 5-4, but the Dutchman's 11 and 12-dart legs pushed it further to 7-4 before wrapping up the title.
Van Gerwen added: "These are long days, very long days. At this point in my life, every tournament I go to, I want to win and it gets harder.
"If you look at floor tournaments these days, there are no easy games anymore, so I have to fight for every game, but overall I'm happy with my victory and that's really important.
"A lot of things have changed, everyone can play an average of 100 – that's how good the tour is right now – that's why you have to focus."
It was also runner-up Rock's best run in a ranking event this year reaching the final, as the Northern Irishman looked to emulate his 28 Players Championship victory in 2022.
The youngster produced three average over tons that day – against Luke Woodhouse, Brendan Dolan and Mario Vandenbogaerde – and beat Premier League star Dimitri Van den Bergh and Poland's Krzysztof Ratajski in the quarter-finals and semi-finals. final respectively.