Lando Norris, Lewis Hamilton, George Russell and Alex Albon have opened up about the impact their mothers have had in their lives ahead of a charity campaign with #HomeAdvantage; the charity works to get children out of orphanages and into 'loving homes'
Last update: 03/18/23 19:56
To mark Mother's Day and the launch of the #HomeAdvantage charity campaign, four British F1 stars revealed to Sky Sports F1 how their mothers led them to success.
Lewis Hamilton, Lando Norris, George Russell and Alex Albon have all shared emotional stories of their mothers' love and support in exclusive interviews with Sky Sports.
Sky Sports F1 is supporting the launch of the #HomeAdvantage campaign, benefiting global charity Hope and Homes for Children.
Just like kids, sports stars realize their potential and perform better when people cheer them on, in familiar environments, i.e. when they have a #HomeAdvantage.
Tragically, the 5.4 million children confined to orphanages around the world today are deprived of it. Locked up alone, they regularly suffer needless violence, abuse and neglect, 80% of them have living relatives who could care for them at home.
Backed by Sky Sports, YouTube and eBay, and featuring global sports stars who share stories of the support their families gave them as children, #HomeAdvantage will attempt to make orphanage history.
Hamilton has opened up about the impact his birth mother and stepmother have had in his life.
"I have two moms. My biological mom. She was the one who taught me empathy, warmth and compassion for others in the world," Hamilton said.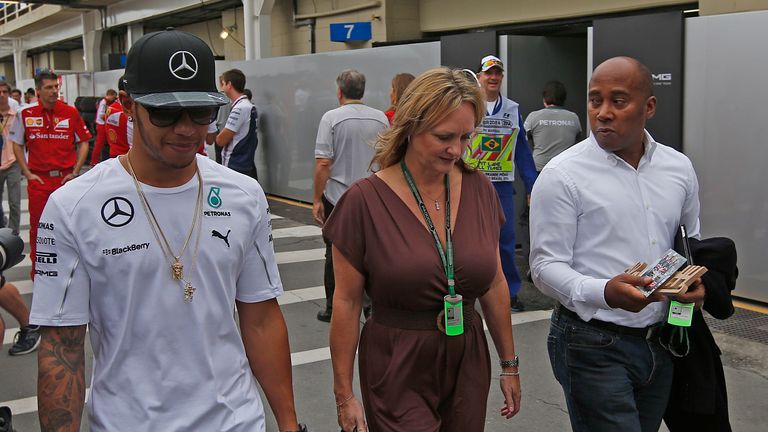 "And I was blessed with a second mother, my mother-in-law Linda. I'm so grateful to have them both with me throughout."
Norris added: "My mother's role has been very important in my life. She has been as supportive as a mother can be in letting her son keep trying to achieve his goal. I couldn't have ask for more."
Nearly 70% of people in the UK (a major source of funding for orphanages overseas) think orphanages protect children, when in fact 100 years of scientific research shows they harm them.
Since 1994, Hope and Homes for Children has inspired several governments, the UN, the EU and the Commonwealth to close the doors of orphanages forever. The association fights for children to grow up in families, by reuniting children with loved ones. When this is not possible, he trains social workers to find foster or adoptive families.
Today, countries like Rwanda, Bulgaria and Romania are on the verge of freeing themselves from orphanages. #HomeAdvantage is all about helping them finish the job, with sights for the rest of the world to follow.
Pinkham on the importance of sponsorship of Hope and Homes for Children:
Sky Sports F1 presenter Natalie Pinkham believes Home Advantage has such power and that "children thrive in families".
As Patron of Hope and Children's Homes, she said: "Decades of evidence prove how essential home and family are for a child.
"For every three months a child spends in an orphanage, they may lose one month of development compared to a child in a family.
"Deprived of the opportunity to grow up in a family, they are 23% more likely to become homeless later in life and 50% more likely to get in trouble with the law.
"No child should be confined to an orphanage, deprived of the love of family and the benefits of home."
Damon Hill, 1996 F1 world champion and Sky Sports analyst, is also a #HomeAdvantage champion.
"When my dad died, I realized that the benefits of home are something we can all take for granted — how my mom had to struggle to keep the family afloat," Hill said.
"And as a father, family is the most important thing. No child should be in an orphanage when it is possible to find a loving home for them."
To pledge your support and give children in orphanages a home advantage, visit www.homeadvantage.org.uk and follow @hopeandhomes on Twitter and @homeandhomesforchildren on Instagram #HomeAdvantage.