One of the biggest complaints we have about the current crop of electric cars is that they're all a bit serious. Of course, the Porsche Taycan is impressive machine, just like the Lucid Air, but neither captures the fun you can have in a gas-powered car today. Fortunately, Caterham is here to rectify that with its first electric concept car.
Chase Elliott explains the challenge of adapting to NASCAR's next-gen car
The EV Seven is Caterham's first electric model and it's said to pave the way for a future EV from the British carmaker. Although Caterham is keen to stress that this is only a concept, it outlines some of the goals it has for a future electric model.
"Any future electric vehicle model we produce must be true to the DNA of a Caterham: lightweight, fun to ride and driver-focused," Caterham CEO Bob Laishley said in a statement. "The main objective of this project is to develop a vehicle with a weight delta not exceeding the equivalent of having a passenger on board. We are never going to launch a one-tonne Seven – we prefer not to TO DO.
But what does all this electric Caterham of the future look like? GOOD, surprisingly familiar to be honest. The car is based on a larger Seven chassis, but instead of a petrol engine, the car features an electric powertrain developed in partnership with electric vehicle specialists Swindon Powertrain Ltd.
As such, the car uses a bespoke 236hp engine from Swindon Powertrain, which is paired with a 51kWh immersion-cooled battery. In the concept vehicle, Caterham says enough is enough to give it a top speed of 130mph and a zero-to-60mph time of four seconds.
To increase its performance on the track, the EV Seven will also feature a limited-slip differential, adjustable Bilstein Seven 420 Cup shocks, regenerative braking and four-piston brake calipers.
Interesting way, Caterham don't really talkg about the range of this vehicle, because he knows that most people who buy one will want to take it out on the track and drive it to the limit. As such, the company instead says it's aiming for 20 minutes of drive time per charge and then a 15-minute recharge time to get you back on track for another 20 minutes of fun. To do this, the EV concept is equipped with DC fast charging up to 152Kw.
Obviously, Caterham has always been known for their light and fun track cars. And so far, the word "lightweight" hasn't really been synonymous with electric vehicles. However, Caterham hopes to keep the weight off of its first electric vehicle at less than 1,500 pounds, marking an increase of about 130 pounds over the gas-powered Seven 485.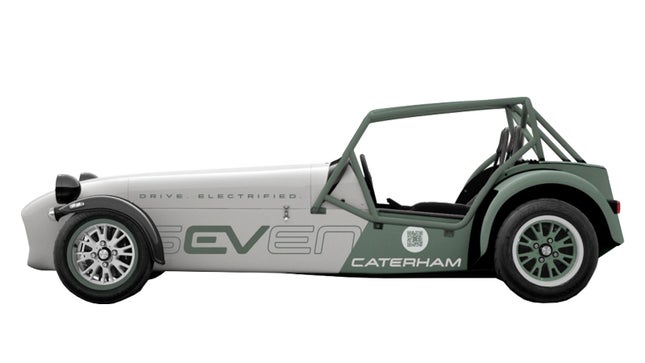 This all sounds rather promising, but as it stands, Caterham has no plans to put the electric vehicle into production. Instead, it's being used as a testbed for a future model, as Laishley explains:
"We are carrying out this project with our eyes wide open in order to learn how to offer the specific characteristics of the Caterham vehicle necessary for a Seven: lightness, simplicity and driving pleasure. We're going to bring this to market at the right time when the next generation of battery technology allows it, and that's why now is the time for us to test the concept.
With Formula E is already proving its worth that electric vehicles can have the performance to battle it out on the track, how long do you think it will be until we start to see amateur racers hitting the track with their own electric models. And, do you think this Caterham offers a good starting point for such cars?