Although the COVID-19 pandemic has ended up being a cash cow for several pharmaceutical and biotech companies, many are looking for other treatments to focus on to replace revenues that are beginning to fade.
With their mRNA vaccines, Moderna (NASDAQ:ARNM), Pfizer (NYSE: PFE), and BioNTech (BNTX) have been among the biggest beneficiaries, in terms of revenue, due to the pandemic.
Including Johnson & Johnson (NYSE:JNJ), Astra Zeneca (NASDAQ:AZN) and Regeneron Pharmaceuticals (REGN), the six companies have generated more than $163 billion in revenue from COVID-related products since December 2020, according to the Economist Intelligence Unit (EIU).
A recent report from the EIU highlights a scenario that many pharmaceutical and biotech companies saw coming – an impending revenue cliff for COVID vaccines and drugs.
These companies have two options. They can either stay focused on their COVID portfolios or step away and focus on other therapeutic areas. Regardless of their decision, the EIC said the results could be restructuring, spinoffs, layoffs or acquisitions.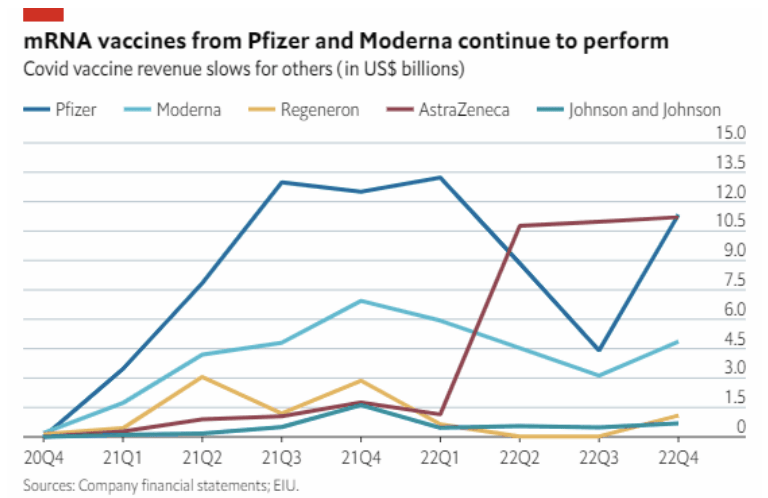 While the peaks in COVID vaccine sales have likely passed, Pfizer (PFE) and Moderna (MRNA), makers of the mRNA vaccines, as well as AstraZeneca (AZN) are better positioned to continue profiting from COVID vaccines in the years to come. come.
At least in the United States, it remains to be seen how the uptake of COVID vaccines will continue once the public health emergency is lifted in May and the vaccines hit the commercial market. There's also a question of how many people will receive future vaccine boosters, as many Americans have grown weary of the virus, a term known as "COVID fatigue."
In its latest earnings report in January, Pfizer (PFE) said it expects revenue from Comirnaty, its COVID vaccine, this year to be around $13.5 billion, down 64% from 2022. For its COVID antiviral Paxlovid, it sees a 58% year-over-year increase to ~$8 billion.
Perhaps as an indication of the writing on the wall, Pfizer (PFE) and AstraZeneca (AZN) are looking to bolster their best lines outside of COVID. In his January earnings call, Pfizer (PFE) CEO Albert Bourla said 2023 would see the most product launches in the drugmaker's history.
AstraZeneca (AZN) CEO Pascal Soirot said the British pharmaceutical company will start more than 30 phase 3 trials in 2023, 10 of which have the potential for peak US sales of more than $1 billion. , according to EIC.
J&J (JNJ), meanwhile, is eyeing potential approvals for cancer, HIV and multiple myeloma therapies to offset lower COVID revenue.
One area that could see further growth is the use of mRNA technology in other therapeutic areas. Moderna (MRNA), for example, is spending $4.5 billion on R&D this year, up from $3.3 billion in 2022. And in February, BioNTech (BNTX) announced it would invest €40 million in a new building for the manufacture of mRNA and cell-based drugs. .
Future mRNA treatments could be used for infectious diseases and cancer, among others, based on pipelines from Moderna (MRNA) and BioNTech (BNTX).