Today's Nice Price or No Dice Range Rover sports a drivetrain never offered in the U.S., and, being a Range Rover of a certain age, has seen lots of maintenance and repair. Let's see if all that makes it worth its asking.
My First Car: Luke Evans and his Loaned Land Rover
When it was brand new, the 1978 Mercury Zephyr Z-7 coupe we looked at yesterday was positioned by its maker as the most exciting and extroverted member of the Zephyr family. Unfortunately, that implied excitement doesn't apparently translate to the modern era, which meant that while few of you really took issue with the Mercery's $6,750 asking price, more than enough did so with what was generally considered to be a dull as dishwater appearance. That ended up earning the Zephyr a stinging 86 percent No Dice loss.
Hey, have you looked at the new Range Rover lately? Dang, that's one fancy-pants ride. Land Rover's promotional materials describe the latest range-topper Range Rover as having "breath-taking modernity, peerless refinement and renown Land Rover capability informed by over 50 years of evolution." To achieve such distinction, Land Rover claims its engineers have strived to achieve "reduced the cognitive load on the driver at every point."
Things certainly have come a long way. I don't think such peerless refinement and cognitive load reduction could be claimed by this 1987 Range Rover Classic Turbo Diesel, even if it does represent the pinnacle of what Land Rover was doing back in its day.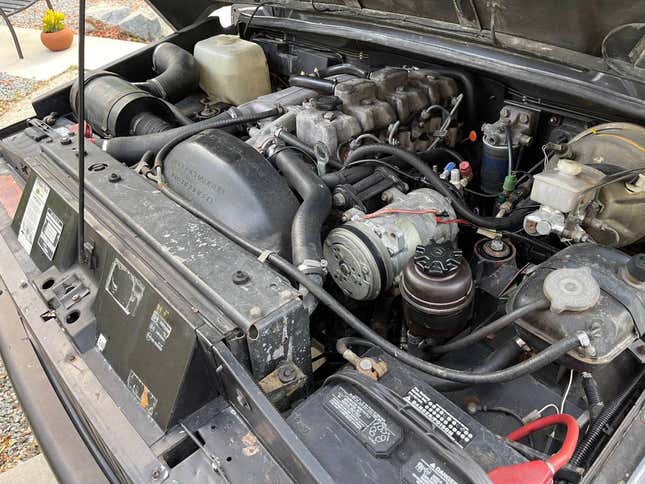 If you're not familiar with the Range Rover turbo diesel, it's not surprising. Land Rover never sold the oil burner here in the U.S., nor even any manual-equipped Range Rovers. This wagon has both a VM Motori 2.4-liter turbo diesel four-cylinder and a five-speed stick as its primary calling cards.
With the intercooled turbo keeping it on its toes, the Italian-sourced diesel pumps out 105 horsepower and 176 lb-ft of torque. In the 4,400-pound Range Rover that manages zero to sixty times in the range of… hey, look at that cool dog over there! Yep, that's one cool-looking dog, all right. What were we discussing? Oh yeah, all this wagon's updates and refurbishments.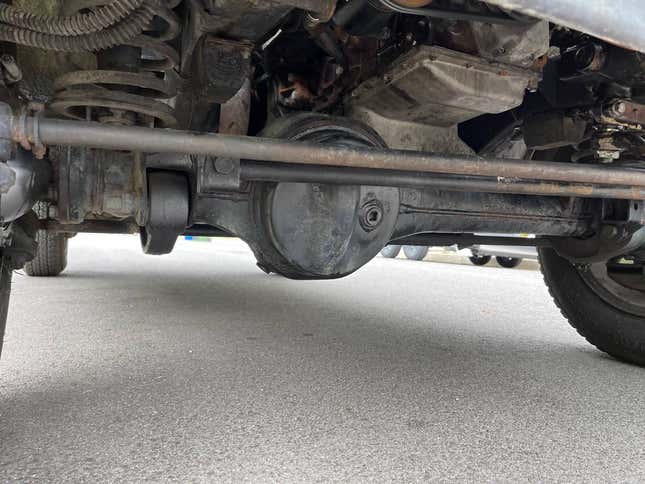 According to the ad, there has been a ton of work undertaken to ensure the wagon runs both on the road and off and to make it look pretty good while doing so. Most of the mechanical work has been focused on the front end, with the suspension, steering, and brakes seeing particular attention. The transfer case for the part-time 4WD has additionally been resealed for drier duty. New dual batteries come along for the ride, as does an A/C system updated to R134.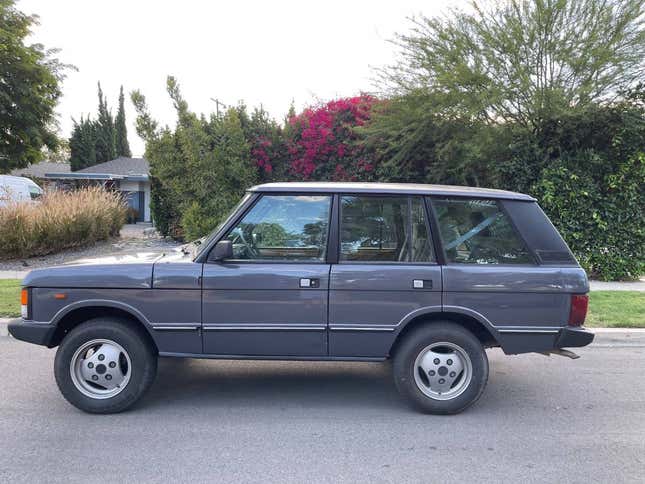 On the aesthetic front, the paint looks to be solid and rust-free, while below that, the wagon wears its iconic and oh-so '80s three-spoke alloy wheels. The cabin gives away the wagon's European roots with its cloth upholstery, but that looks to be in excellent shape and is probably extremely cozy feeling.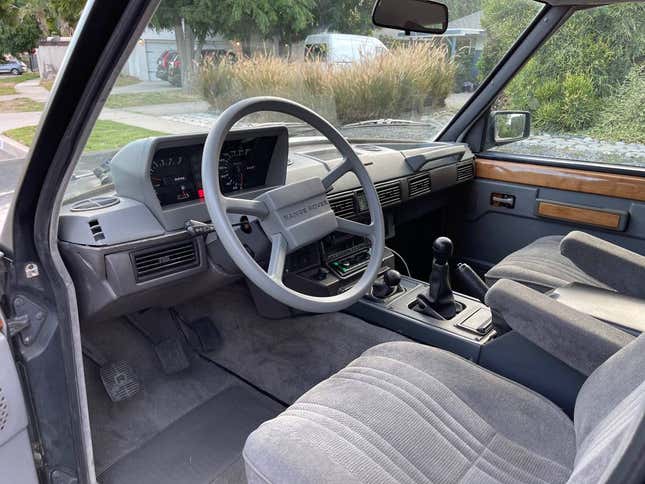 New carpet and headliner (the latter being a particular pain point on these) accompany that cozy upholstery. The wood trim that accents the door pulls and caps also appears to be in great shape. The same can't be said for the ancient plastics, though, and it looks like all four door lever surrounds on the wagon have gone AWOL. This being a Ranger Rover for the Continent, the Speedo and odometer read in kilometers, with the latter showing 164,291. That's a little over 100,000 miles, although the seller lists it as 98,560, which is close enough.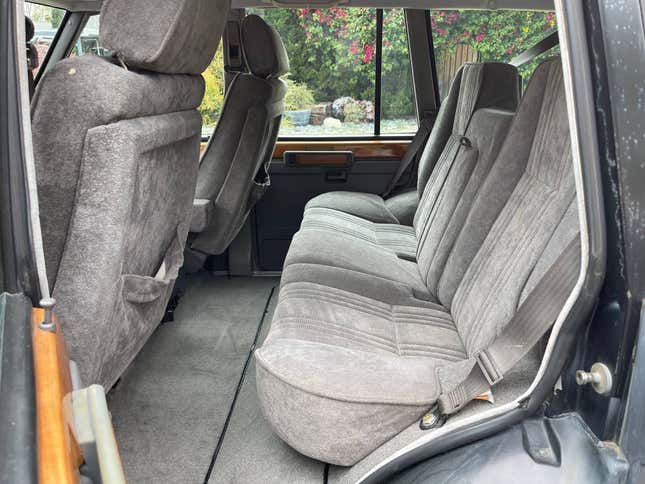 Other pertinent info in the ad includes that the wagon comes with a clean title and is currently registered with up-to-date tags as a vintage vehicle in Vermont. Apparently, it doesn't actually live in the Freedom and Unity state, as it's offered in the Los Angeles, California, Craigslist, and all the photos in that ad show the Range Rover surrounded not by Vermont Maples but by ratty palms and scorched Saint Augustine grass. That's OK, though, because, being a diesel, this Rover is even welcome in California as it's old enough not to require a smog certificate for registration. That being said, the seller claims to be willing to ship the big beauty wherever needed to make the sale.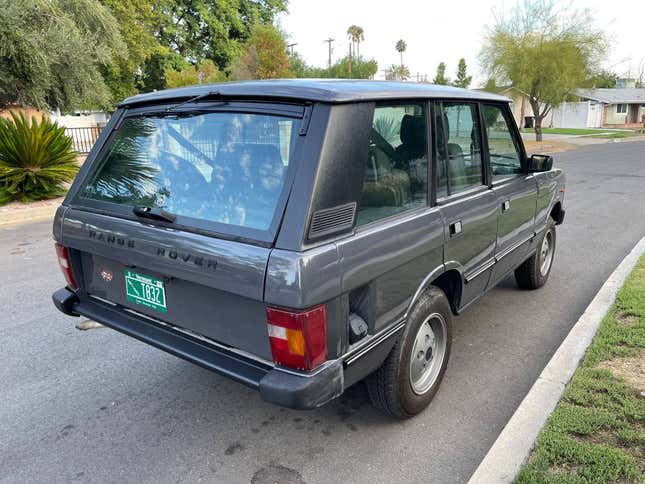 To make that sale, no questions asked or negotiations sweated, a buyer will need to come up with $24,500, as that is the asking. What's your take on that amount for this rare and seemingly sorted Range Rover? Does that seem like a deal to get the Classic experience? Or is that too much to ask for a Wagon that's going to be so dang slow?
You decide!
Los Angeles, California, Craigslist, or go here if the ad disappears.
Help me out with NPOND. Hit me up at remslie@kinja.com and send me a fixed-price tip. Remember to include your Kinja handle.